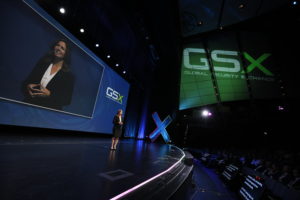 Cyber, operational, and physical security professionals from across the private and public sectors, allied organizations and partners, and the industry's leading solution providers come to GSX for the most comprehensive security education and innovative technology in the world. As the trusted community for the profession, only ASIS International has the expertise, influence, and resources to deliver the industry's flagship event.
Become an ASIS member and start networking across the globe with your security community before, during, and after GSX.
ASIS Europe – From Risk to Resilience
March 2023 will be a unique gathering in person and online designed for established and aspiring security leaders, expert advisors, and innovators in security and risk management.
The event addresses complex challenges in today's fast moving, innovative business environment. An exceptional educational program covers a wide range of cyber-physical security risk outlooks, leadership and management topics, case studies and analysis, using a variety of learning formats. The 2022 Virtual event attracted over 900 registrants from more than 60 countries, and 45 exhibitors. Core attendance comes from senior security practitioners from multinational companies. A small sample of companies attending in 2019 included Amazon, Microsoft, Facebook, Google, Volkswagen, BNP Paribas, Boehringer Ingelheim, Daimler, Johnson & Johnson, Heineken, Mastercard, Coca-Cola, Lufthansa, SABIC, Zurich Insurance, and The Walt Disney Company.
Do not miss this opportunity to learn from and share with hundreds of professionals facing today's toughest security challenges.
CLICK HERE FOR MORE INFORMATION
ASIS Latin America Conference 2023 26-27 October | Lima, Peru
If you would like to learn more about submitting a presentation proposal, please email ComiteAcademico2023@asis.org.pe.
26-27 October | Lima, Peru